**NEW**
The FaceKevlar Folding Comb
The newest addition to our #FaceKevlarFamily of combs, we are proud to introduce you to our Folding Comb. Made from Black Sandalwood that has an awesome masculine woodsy scent (not only out of the package, but will continue to keep it's aroma for years), it sports our FaceKevlar logo branded on the knife-like handle and our original ruler on the back to measure your beard growth progress!

We've dropped the FaceKevlar Folding Comb to $17.99 from the usual $19.99 as a special introductory price for a limited time only. This comb sells for as much as $30 elsewhere, so grab it at the lower price while you can!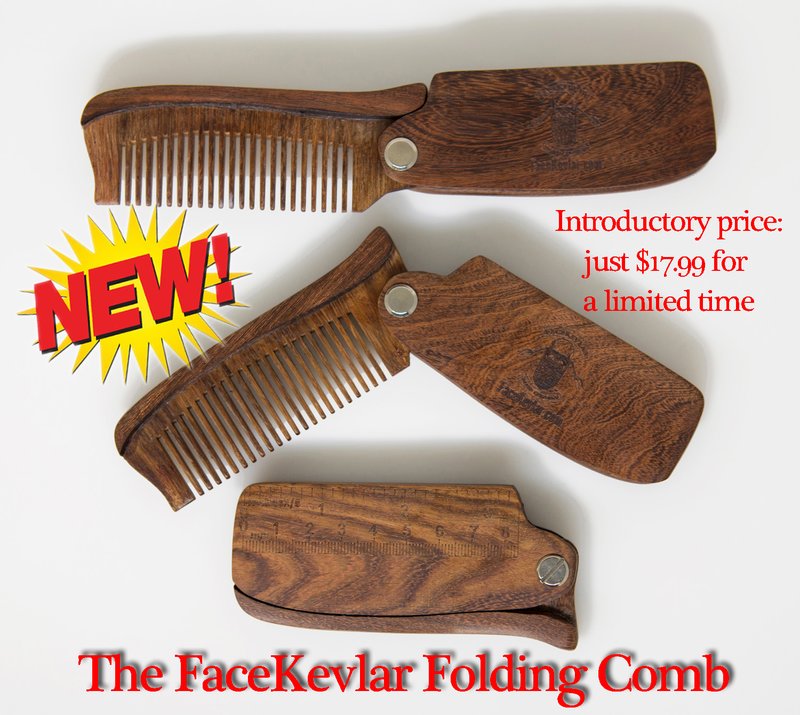 ---
SEE ALL THE HAPPY & LOYAL MEMBERS OF OUR
Please LIKE & FOLLOW US to keep up to date on upcoming events, SALES
& any FaceKevlar Beard Booth Locations at a Bike Rally, Veterans Event or Party near you!
NO PURCHASE REQUIRED to join our Social Media sites
If you don't have Instagram or Facebook YOU CAN STILL GET OUR DEALS AND INFO!

Just add you're Email Address at the bottom of this page.
Your Information is kept Completely Private. We DO NOT share or sell ANY information you provide us EVER.
NO PURCHASE IS NEEDED FOR US TO DO THE RIGHT & ETHICAL THING WITH YOUR SENSITIVE INFORMATION.
Your Email address is as valuable to us as your credit card number
We treat every customer like FAMILY....
#FaceKevlarFamily